Breitenbach wins coveted Princess Grace film award
Travis Breitenbach is ready to take one on the chin. The RIT student filmmaker expects to grow a beard—a mustache, too—for his senior thesis production, A Kiss Without a Mustache is Like Egg Without Salt. Breitenbach says the documentary will explore the history and culture of facial hair.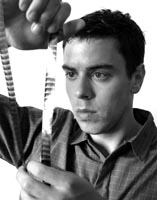 Travis Breitenbach
"The razor is the most commonly used tool among American men," he reflects. "It's used even more often than the toothbrush, unfortunately."

Breitenbach can count on some financial assistance for his imaginative project after winning the Princess Grace Award—an annual salute to top young aspiring artists in theater, dance and film. The honor comes with a $2,000 grant.

This is the fourth consecutive year that an undergraduate student from the School of Film and Animation has received the Princess Grace Award. It's the fifth such honor for the school overall. Breitenbach, whose entry featured a collection of his previous films, was chosen by SOFA faculty to be this year's sole RIT undergraduate representative.

"Even receiving the nomination from faculty to apply for this award was quite an honor," he explains. "Looking back on it all, I'm very proud to realize what I've accomplished."

Breitenbach is a talented young artist with "a sly and intelligently playful spirit," says Howard Lester, SOFA chair. Lester believes the school's recent run of Princess Grace Awards highlights the quality of its program.

"Four years in a row! What other undergraduate film and animation program has achieved that level of recognition?"

The awards are made possible by the Princess Grace Foundation-USA. During her lifetime, Princess Grace of Monaco helped many aspiring artists pursue their career goals. That inspired her family to create the foundation in her memory.

The award has inspired Breitenbach to maintain his career focus. After graduation, he'll pursue work doing field production for documentaries with the potential for travel to foreign countries.