_________________________
_________________________
Greg Giorgio - Voiceovers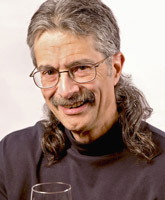 Greg Giorgio began his career in radio and television in 1974, producing thrice weekly sports reports for WCDB 640 AM, Boston, MA when he was a student at Grahm Junior College.
He began a 34 year tenure with the Off Track Betting Communications Network in 1976 and served as a staff announcer, producer of horseracing features and documentaries. He was program host for numerous weekly and daily productions vital to the horserace information genre. Greg became known as "the voice" of the OTB Network for his authoritative style and his deep, resonant tones.
During this time Greg also did freelance work for independent producers and local outlets like Time-Warner Cable Saratoga, NY as a voice over talent, radio producer and host for such shows as "Wining and Dining", WWWD 1240 AM, Schenectady and "The Labor Show" for WRPI 91.5 FM, Troy. Additionally, he was a frequent guest on WGY 810 AM, Schenectady talk formats of the late '80s and early '90s as a resident wine expert. Greg's Wine Blog
Greg has been involved in the production of hundreds of promos and commercials, both as a voice talent, writer, editor, and producer. He has a broad range of accents, dialects and voice characterizations that he can call on to suit varied scripts. He sings well in the bass range and once you've heard his rich, attention getting voice, you will not forget it.
The piece that often sets Greg apart from many voices in the media is the way he sounds natural while commanding attention. A voice born to narrate, inform and inspire!
CONTACT:
Greg Giorgio
P.O.

Box 74
Altamont NY
ggwob56@yahoo.com
518.8

61.56

27
_________________________
Greg Giorgio - Voice

overs