The 'Everything' Package #1

Rehearsal dinner, changing room, wedding ceremony,
time for photographs, & outdoor reception - $3,295
(Plus FREE digital engagement photos)
The 'Big Day' Package #2

Changing room, wedding ceremony, time for photographs,
& outdoor reception - $2,795 (or $2,295 at the two towers tent site)
(FREE digital engagement photos are included, plus pre-day rehearsal.
Guests are limited to 150. Ceremony through reception time is 6 hours. )
The 'Good Start' Package #3

Rehearsal dinner, changing room, wedding ceremony, & photographs - $1,495
(Ideal for those who would like to have a romantic backdrop for their ceremony and
photographs, but prefer to go elsewhere for an indoor reception. FREE engagement photos)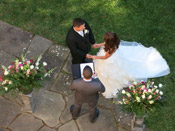 À la carte
Wedding Ceremony Only (Includes changing rooms, rehearsal time and photos)

Outdoor wedding ceremony (up to 150 guests) - $895

Small indoor ceremony (Up to 50 people. Held in the artist's studio) - $995

Elopement indoor ceremony in the castle hall (Up to 12 people) - $795
Photography (Outdoor settings only)

Engagement photos (Your photographer, our setting. Prospective bride & groom) - $200

Engagement photos (Digital photos taken here, by the artist. Free w/our packages) - $300

Wedding photos (Includes bridal party - Free with ceremony or reception -
(Meaning "time for photos". We do not supply a photographer at the wedding) - $300

Product Launches, Film and Photo Shoots (Indoor and/or outdoor) - Negotiable

Rehearsal Dinner Only

Small, indoor private dinner (Held in the artist's studio on Fridays only. Seats 26) - $895

Reception Dinner or Private Parties Only

On the grounds (with no wedding ceremony. Includes photography) - $2,295
($1,795 at the Two Towers tent site)

Small, indoor functions of any kind (Up to 40 people in the artist's studio) - Negotiable
Extra Hours for Weddings

Weddings with receptions are officially concluded 6 hours from the start of the ceremony, at which time the music ends and remaining guests depart (This excludes, of course, changing room time, decorating, setup, cleanup, and teardowns which can occur over several days.) Additional hours may be booked at - $250 per hour
Meetings, Workshops, Intimate Concerts, etc.

Small affairs that have less impact on our property and time can be negotiated at much lower rates. Email or call us to discuss - Negotiable

Other Rentals

DJ equipment (Save money. Have a friend or family DJ!)
#1) 15" PA speakers, amplifier, mixer, microphone w/ stand,
cords, table & setup - $245 (See diagram & specs)
(Just plug in your mp3 player, iPhone, or laptop - instruments too!)
#2) Laptop (with iTunes and 3,000 pre-installed songs. Yours can be added) - $55

Harpsichord (for elopement ceremonies in the main hall. Fee covers tuning) - $100

Synthesizer (indoor use only. Has pipe organ, harp and many other sounds) - $100
* Unless otherwise noted, Ceremonies & Receptions are held on the grounds. We can accommodate up to 150 guests and park 100 cars.
* The season for outdoor events is June through September.
* Rental rates solely include use of the grounds and/or certain rooms within the castle. Catering and other services, and rental of tents, furniture, outdoor restrooms (when required) etc., are not included in the price and should be arranged for by an experienced wedding or event planner, or full-service caterer.
* A 50% deposit is due on signing. Remaining agreed-upon fees are not due until 30 days before your scheduled event.