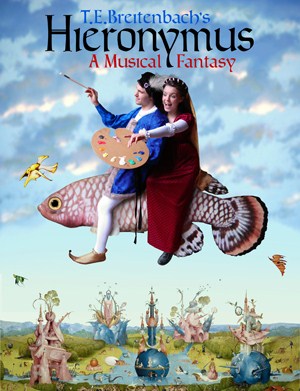 Book, Music & Lyrics by
T. E. Breitenbach
Click here to see pictures from our recent production for public television
Hieronymus, is a colorful, romantic fantasy about the medieval artist, Hieronymus Bosch (painter of the Garden of Earthly Delights) — When Hieronymus Bosch begins courting Anna, the daughter of a wealthy art patron, he finds himself in a difficult position. It seems there are a great many odd creatures living in his house, a result of his over-active imagination. This fact he attempts to hide from Anna and the public. Anna soon discovers the creatures, though she is instantly won over by the cute Sophie, and the funny pair of Otto and Gregor.
However, Erasmus, a jealous admirer of Anna, also learns of the creatures and attempts to have Hieronymus arrested by Church authorities for the practice of black magic (a serious matter in these times).
Though Anna is brave at first about the creatures, she is also concerned about having a normal and wholesome home in which to raise a future family. She attempts to change Hieronymus' ways, an improbable wish, and she is left to do some serious soul-searching.
As Hieronymus' imagination seems to lead him deeper and deeper into trouble, he abandons it for a time, even denying the existence of his beloved creatures.
Near the end, the desperate Erasmus kidnaps Sophie, and it is Anna who rises to the occasion, pleading with Hieronymus to use his imagination again in order to save her. Awakened from his doldrums, Hieronymus (in a frightening scene) brings to life every object and creature in his house to help rescue Sophie.

MUSICAL HIGHLIGHTS:

Click to hear song clips. Scroll down for more.


PERUSAL SCRIPT:
Click here to view a perusal script.
DOWNLOAD PERUSAL SCRIPT
T. E. Breitenbach, the creator of "Hieronymus", is himself a painter of fantasy, well known for his masterwork "Proverbidioms", and as such he lends his own personal angst to the show—the feeling that most everyone doesn't really get it, even those closest to you. The passion, the joy, the pain—the creation and reality of such.
"Hieronymus" has all of the emotional highs and lows that we so enjoy in a musical. The love story is warm and uplifting, the villain is hellishly evil, the melodies are lush and singable, and the dances splendid and exciting. The comedy and the fabulous creatures are unforgettable.
This show is about imagination, and, whether staged simply or extravagantly, it offers directors great creative opportunities.
WHAT OTHERS SAY:
"I was thoroughly entertained"

"I found it affirming and inspiring."

"The kids were all giggling. It's a perfect family show."

"The humor was brilliant! I didn't want it to end."

"I've been to a lot of school musicals, but this is the best I've ever seen!"

"Outstanding play and music! Look out Broadway!"
CAST REQUIREMENTS:
8 women, 7 men, 12 of either, plus unlimited ensemble
PERFORMANCE LENGTH:
2 hours, 10 minutes plus intermission
SHOW COSTS:
VIEW ORDER FORM/PRICE LIST























© Copyright 1999, 2000
T. E. Breitenbach
All rights reserved.
No part of the music, lyrics, dialogue, pictures, or logos may be reproduced or utilized in any means, electronic or mechanical, including photocopying, recording, or by any information storage and retrieval system, without permission in writing from:
T. E. Breitenbach
c/o Premiere Musicals Guild, PO Box 538,
Altamont NY 12009 USA

HIERONYMUS is a trademark of T. E. Breitenbach.

School, community theatre, school theater, performance, and youth school theatre community theater and amateur theater scripts for youth and amateur.
Community theater, amateur theater, amateur musicals, community theatre and theatre productions, school theatre, school musicals, youth and school productions.
Community theater and theater, scripts and script rental for community and youth and amateur performance
roductions.